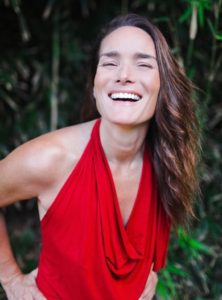 I have taught over 17,000 hours of yoga.
My mission has always been to support people to live in alignment with their Spirit and their Soul, which is the greater part of who we all are.
But for years I was struggling with my personal life because it was not a match for who I am and why I am here.
One day I WOKE UP and admitted to myself that the life I was living was not fulfilling me at the deepest level of my being.
So I made a big turnaround choice and decided to take 100% responsibility for the life that I had created.
And of course I knew that the only person who could change my life was me.
By asking myself one simple question on a ongoing basis, I embarked on a journey of Self-Love that helped me transform my life into the life of my dreams.
The question I continually ask myself is,
"Is this action/thought/feeling/person/place/thing aligned with who I am, why I'm here and the deepest desires of my Soul?"
Along the way, like us all, I fumble and stumble but always get back up on the wild pony of life because I am devoted to rising up to my highest potential and part of that is having breakdowns that lead to breakthroughs.
I see everything as an opportunity to root deeper into my authentic self and to rise higher into my greatest potential.
No matter what.
And that's what I want for you.
I am an agent of change.
I have been to the depths of despair and the heights of ecstasy and everywhere in between.
I intimately know my own internal hells and heavens and I know how to hold space for the deepest shadows and the brightest lights.
I feel that making peace with our shadow side and our light side is the key to radical transformation and living the life of our dreams.
I am the creator of Vibration Transformation, a lifestyle program for big vision, heart-centered spiritual leaders, visionaries, teachers, healers and artists who are here to make a positive contribution to the planet.
My mission is to help you raise your energetic vibration to match the energy of your mission so you can fully embody it and become it.
My intention is to help you to transform your life into a reality that makes you lovingly, light-heartedly and blissfully say, "This is my life and I love it" so that you always feel like you are on the path of True Self Mastery.
I have a multidimensional integrative approach to creating a total Vibration Transformation.
I work with natural laws, the nature spirits, spirit guides, ascended Masters, God, Creator, Source, many ancient systems of wisdom, my internal guidance system and your True Self.
I have had the great honor of being in the presence of, learning from, and playing with some of the greatest luminaries, lightworkers, teachers and enlightened masters on the planet.
I have gone through, and continually am going through, a massive and radical Vibration Transformation in my life.
It never ends.
I find that to create lasting and sustainable change, you have to make major changes on many levels with your thoughts, words and deeds and stay awake and aware of yourself and your unconscious every day.
I'm a transformation junkie and love being in the presence of people sloughing off all the stuff that is not them, and morphing into their true essential self.
Simultaneously, I like me just the way I am, and accept you just as you are.
AND…what I truly love is loving myself full-on, and being around people that totally love themselves and their lives full-on.
Which sometimes requires a l'il tweaking of your mojo here 'n' there…
Here are some of the goodies in my magic bag of tricks:
*I have taught over 17,000 hours of Yoga to over 10,000 people all over the world and am accredited by the Yoga Alliance as an Experienced Registered Yoga Teacher – ERYT 500.
*I am a International Certified Life Coach and trained at the Coaches Training Institute (CTI).
*I am a Gourmet Raw Food Alchemist, Chef and Nutritionist.
*I am a Meditation Teacher.
*I am a Pranayama Teacher.
*I am a Hands on Healer.
*I am a Singer, Song Writer, Musician, Sound Therapist, Kirtan Leader and Recording Artist and have recorded 3 CDs.
*I am a Spiritual Teacher.
*I am an Artist and attended Parson's School of Design in NYC.
*I am a Feng Shui Practitioner trained at the School of Western Feng Shui and love to create Sacred Spaces.
*I am an Inspirational Speaker.
*I am a Self-Published Author.
*I am the pioneer of a Yoga for Kids Program in Schools, and teach people how to teach Yoga to Kids which has helped me stay very silly and fun! I am the creator of a Yoga for Kids Teacher's Training and have taught hundreds of teachers how to teach Yoga to children.
*I have a BA in Religious Studies from University California Santa Barbara and did my Independent Research project on Hallucinogenics and their contribution to the cultivation of Religion.
*I am the creator of a Bhakti Yoga Teacher's Training program and have taught hundreds of Yoga Teachers how to teach Bhakti Yoga.
*I have deeply explored, studied extensively and teach about the Chakras
*I have deeply immersed myself in Shamanstic studies and lead one on one and group Vision Quests and Ceremonies
*I officiate Weddings, Memorial Services and Rites of Passage Ceremonies
My core values are:
* Truth
*Love
*Gratitude
*Awareness
*Humor