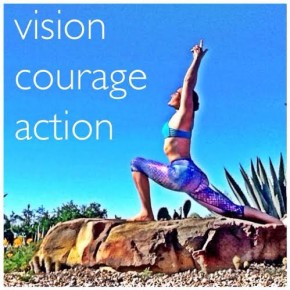 VISION COURAGE ACTION MANIFESTATION GROUP.
A 6 Week Visioning and Accountability Group to manifest one or more of your Big Visions for 2015.
Meetings every Tuesday morning from 7-8:30am
Tuesday, July 21 – Tuesday, Sept. 2, 2015
At a beautiful and magical shangri-la in the foothills of Santa Barbara.
$299 / $275 each if you join with a friend  / $249 for former VCA Participants
Register HERE
As you continuously raise your vibration to match your highest potential you will become a true Master at being your own unique and wonderful self living in alignment with who you truly are and why you are truly here.
But Self-Mastery is not a fast process. It is a step by step process and one of your major guides along the way is to follow the energy of what excites you.
By focusing on manifesting just one or two of the things that excite you in life you will be one step closer towards total self mastery and will have the deep satisfaction and happiness that comes from accomplishing a goal that is in alignment with your true essential nature.
During this powerful 6 week process we will focus on creating a vibrational and foundational lifestyle transformation so that your thoughts, words, feelings and actions are a resonate match with what you truly Love, totally lights you up and invokes happiness and bliss within so that you become the living embodiment of the things that you deeply desire to manifest in 2015.
During this 6 week process previous participants have totally revamped their daily self-love and self-care program, lost weight, got into the best shape of their lives, totally organized their homes, completed writing their book, recorded their Albums, created and launched their new websites, organized and hosted retreats, created new menus for their restaurants, created their business logo and brand, designed new clothing lines and so much more while deepening their relationships with their partners, children, friends and family, aligning with their deepest Values and have completed the 6 week session feeling more alive, happy, healthy, peaceful and successful than ever.
On Tuesday mornings for 6 weeks we will meet from 7-8:30am.
This 6 week session will include:
*Meditations, Visualizations and Sharing with an empowered group of individuals devoted to manifesting their greatest Visions
*Empowerment conversations about our core themes of VISION, COURAGE and ACTION
*Specific exercises to help you be present with and then clear the inevitable fear, doubt, insecurities and challenges that arise when you devote yourself to manifesting your Vision so that you can tap into the COURAGE to manifest your VISION
*Writing exercises creating a powerful Vision Statement
*Get clear about the feelings that you want to cultivate as you create your Vision
*Create a clear big pan of action, a weekly plan of action and a daily plan of action
*You will have a one on one accountability partner to help you process everything that you are going through and to help you stay on track and in alignment with your Vision
*We have a private FaceBook Group where we can post inspirational messages and encourage each other
*You will receive a workbook to help you navigate your 6 week manifestation journey
*You will have learned life long skills that will help you manifest anything that you desire