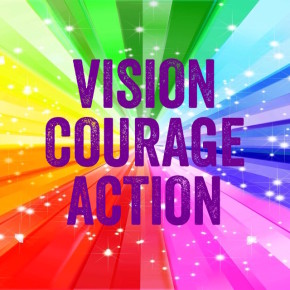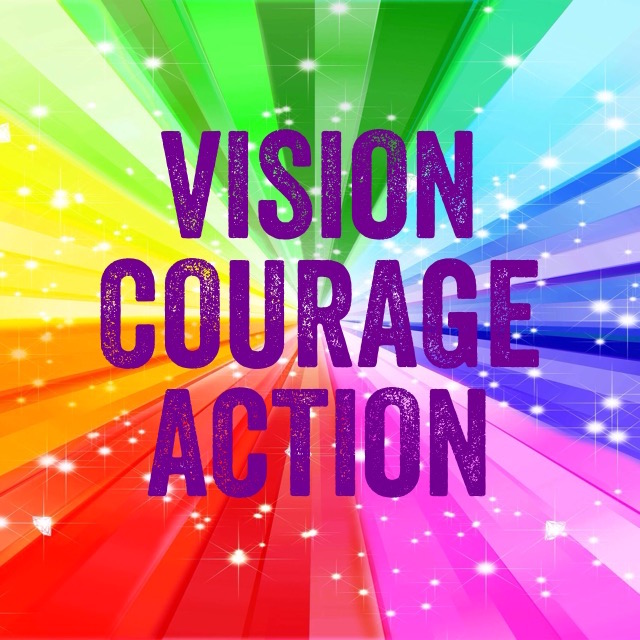 VISION COURAGE ACTION MANIFESTATION GROUP – NEW YEAR SESSION
A 6 Week Visioning and Accountability Group to manifest one or more of your Big Visions for 2016.
Meetings every Tuesday morning from 7-8:30am
Tuesday, January 12 – Tuesday, February 23, 2016
Join our live classes at a beautiful and magical shangri-la in the foothills of Santa Barbara, CA or join us via live stream via the internet.
Videos of all classes are provided.
$299 / $275 each if you join with a friend / $249 for former VCA Participants
For more info and to register visit HERE

As you continuously raise your vibration to match your highest potential you will become a true Master at being your own unique and wonderful self living in alignment with who you truly are and why you are truly here.
But Self-Mastery is not a fast process. It is a step by step process and one of your major guides along the way is to follow the energy of what excites you.
By focusing on manifesting just one or two of the things that excite you in life you will be one step closer towards total self mastery and will have the deep satisfaction and happiness that comes from accomplishing a goal that is in alignment with your true essential nature.
During this powerful 6 week process we will focus on creating a vibrational and foundational lifestyle transformation so that your thoughts, words, feelings and actions are a resonate match with what you truly Love, totally lights you up and invokes happiness and bliss within so that you become the living embodiment of the things that you deeply desire to manifest in 2016.
During this 6 week process previous participants have totally revamped their daily self-love and self-care program, lost weight, got into the best shape of their lives, totally organized their homes, completed writing their book, recorded their Albums, created and launched their new websites, organized and hosted retreats, created new menus for their restaurants, created their business logo and brand, designed new clothing lines and so much more while deepening their relationships with their partners, children, friends and family, aligning with their deepest Values and have completed the 6 week session feeling more alive, happy, healthy, peaceful and successful than ever.
On Tuesday mornings for 6 weeks we will meet from 7-8:30am.
This 6 week session will include:
*Meditations, Visualizations and Sharing with an empowered group of individuals devoted to manifesting their greatest Visions
*Empowerment conversations about our core themes of VISION, COURAGE and ACTION
*Specific exercises to help you be present with and then clear the inevitable fear, doubt, insecurities and challenges that arise when you devote yourself to manifesting your Vision so that you can tap into the COURAGE to manifest your VISION
*Writing exercises creating a powerful Vision Statement
*Get clear about the feelings that you want to cultivate as you create your Vision
*Create a clear big pan of action, a weekly plan of action and a daily plan of action
*You will have a one on one accountability partner to help you process everything that you are going through and to help you stay on track and in alignment with your Vision
*We have a private FaceBook Group where we can post inspirational messages and encourage each other
*You will receive a workbook to help you navigate your 6 week manifestation journey
*You will have learned life long skills that will help you manifest anything that you desire
*Videos of all live classes will be sent out shortly after all classes
Here are some of the amazing testimonials from the former participants:
Anne is incredible…the space and the energy she holds for each and everyone of us throughout the six weeks is inspiring! To have had a group and a weekly practice to devote myself to my Vision was extrememly powerful! I am a completely different person after completing this program in the best way possible! I have learned a new way to live and show up in the world! I am truly transformed and have truly manifested my Visions. Empowering, conscious and sacred. Thank you Anne! So much Love.
~Erin Gomez, co-creator of The Juice Ranch and Raw Food Chef, Santa Barbara
I know I personally used this program for my entrepreneurial pusuit and I can't believe how far I've come, how hard I've worked, and how much change has accumulated at the end of this group through the build up of little changes, to do lists, and check ins to keep your going. And it really is the early morning once a week grounding sessions spent with the group that foster the self-love, connection and self-care that allowed me to carry myself through. I can now fully claim for myself purpose and passion.
~Katie McLean, Visionary Artist creator of the active wear Psychedelic Honey, Santa Barbara
The Vision Courage Action Manifestation Group was an incredibly effective platform for manifesting huge change in my life. Together we visioned our individual goals, shared in a collective energy of accountability and support and worked through the internal blocks that can keep us seperated from our grandest dreams. I was amazed by what I could create during this process with the support of this motivating and powerful group lead by Anne.
~Samantha Goldstone, Visionary Artist and Healer, Santa Barbara
Vision, Courage, Action is a dynamic intimate experience. There is something very potent about beginning the day in a circle of peers who are willing to open to vulnerability and possibility. We met our raw dreams and longing with solid plans of action, bolstered by the courage of one another and deep within ourselves. Anne is a dynamic and honest guide. She is willing to demonstrate her own process and learn within and beside the group that she is facilitating. As with any process, the deep lessons percolate long after the program has finished. And the method Anne has offered provides a new framework that can be applied again and again to our ever-evolving visions of who we are, how we want to feel, and what we need to do (or not do) to get there.
Lisa Field, Visionary Photographer and Healer, Santa Barbara, CA.
Anne is a brilliant teacher. She offers her students a level of vulnerability and courage that all can learn from. I am very grateful to have participated in her "Vision Courage Action Manifestation Group where I can honestly say I charted a beautiful new course for my life and my way of living. I depend in many new friendships with like-minded conscious people, got in touch with my scattered dreams, brought them into focus and made them a reality. Thank you Anne!
~Janelle Christa Bottelsen, Visionary Healer, Santa Barbara