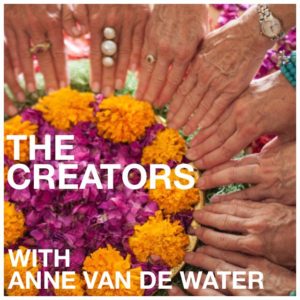 You feel a call.
It's the beginning of a New Year.
It's the beginning of a new 9 year cycle.
You feel destiny is calling you to CREATE something amazing…
Because YOU ARE A CREATOR.
What is it that you truly want to create, manifest and activate in your life right now?
Your book. Your website. Your CD. Your new company. Your adventure. That one true thing that you've been feeling a deep call to CREATE.
What's the thing that you have been procrastinating about?
Your health. Your wellness. Your finances. Your home. Your relationships. Your career. Your Soul. Your Spirit. The time is now.
Whatever you want to create is possible.
BUT…
You have to get clear about your Vision.
You need some tools to move out of your comfort zone and into your CREATIVITY zone.
You need to make a plan.
You need to take action.
AND…
It's a lot easier to be a CREATOR when you are in the presence of other CREATORS.
That is why I have created a very powerful and practical program to help you CREATE and manifest your VISION…
So that your dream doesn't remain a dream.
It becomes your reality.
And I am SUPER excited to invite you to the:
THE CREATORS
The CREATORS is a 6 Week Visioning and Accountability Group of CREATORS to help manifest one or more of your Big Visions for 2017.
You can attend IN PERSON in SANTA BARBARA, CA
OR JOIN US LIVE VIA THE INTERNET FROM ANYWHERE IN THE WORLD VIA LIVE STREAM CLASSES.
AND…VIDEOS ARE PROVIDED OF ALL CLASSES.
Tuesday, January 17 – Tuesday, February 28, 2017
Meetings every Tuesday evening from 6:30-8pm PST
At a beautiful and magical shangri-la in the foothills of Santa Barbara.
$299 REGISTER NOW
$249 each if you join with a friend REGISTER NOW
$225 for former Participants REGISTER NOW
If you miss a class there will be a video of the class available for you to access at any time.
For questions contact me HERE
Testimonials about THE CREATORS from former participants:
This group was an incredibly effective platform for manifesting huge change in my life. Together we visioned our individual goals, shared in a collective energy of accountability and support and worked through the internal blocks that can keep us separated from our grandest dreams. I was amazed by what I could create during this process with the support of this motivating and powerful group lead by Anne.
~Samantha Goldstone, Co-Creator of LAST CUT, Visionary Artist and (Role) Model, Santa Barbara, CA.
This group was a dynamic intimate experience. There is something very potent about being in a circle of peers who are willing to open to vulnerability and possibility. We met our raw dreams and longing with solid plans of action, bolstered by the courage of one another and deep within ourselves. Anne is a dynamic and honest guide. She is willing to demonstrate her own process and learn within and beside the group that she is facilitating. As with any process, the deep lessons percolate long after the program has finished. And the method Anne has offered provides a new framework that can be applied again and again to our ever-evolving visions of who we are, how we want to feel, and what we need to do (or not do) to get there.
Lisa Field, Co-Creator of LAST CUT and Visionary Photographer, Santa Barbara, CA.
Anne is incredible…the space and the energy she holds for each and everyone of us throughout the six weeks is inspiring! To have had a group and a weekly practice to devote myself to my Vision was extremely powerful! I am a completely different person after completing this program in the best way possible! I have learned a new way to live and show up in the world! I am truly transformed and have truly manifested my Visions. Empowering, conscious and sacred. Thank you Anne! So much Love.
~Erin Gomez, co-creator of The Juice Ranch and Raw Food Chef, Santa Barbara, CA.
I personally used this program for my entrepreneurial pursuit and I can't believe how far I've come, how hard I've worked, and how much change has accumulated at the end of this group through the build up of little changes, to do lists, and check ins to keep me going. And it really is the once a week grounding sessions spent with the group that foster the self-love, connection and self-care that allowed me to carry myself through. I can now fully claim my purpose and passion.
~Katie McLean, Visionary Artist creator of the active wear Psychedelic Honey, Santa Barbara, CA.
Anne is a brilliant teacher. She offers her students a level of vulnerability and courage that all can learn from. I am very grateful to have participated in this Group where I can honestly say I charted a beautiful new course for my life and my way of living. I depend in many new friendships with like-minded conscious people, got in touch with my scattered dreams, brought them into focus and made them a reality. Thank you Anne!
~Janelle Christa Bottelsen, Visionary Healer, Santa Barbara, CA.