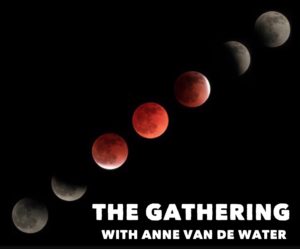 THE GATHERING
Monday, August 7, 2017
6:30-8:30pm PST
$40 in person in Santa Barbara, CA
REGISTER NOW
$30 via Live Stream (you will be watching and participating during THE GATHERING from wherever you are)
REGISTER NOW
$30 Video (sent out August 8)
REGISTER NOW
Light snack provided
Join me for THE GATHERING to connect with and attune to the Full Moon Lunar Eclipse in Aquarius.
New Moon and Full Moon is a powerful time to GATHER together and practice Gentle Yoga and movement, breathe, chant, meditate, clear and balance our Chakras, share, connect, intend, clear, bless, vision, and gather around the fire circle outside under the Moonlight (if it is clear) and inside by the fireplace (if it's raining) in ceremony with so that our wishes, prayers and intentions are heard.
Every Full and New Moon activate powerful energies within us.
The Full Moon in Aquarius is a powerful time for creating and activating:
*Being creative and making your life a work of art
*Being Humanitarian
*Personal Independence
*Being Friendly with others and yourself
*Being willing to try a new way and new things
*Having a progressive outlook
*Being an original
*Being eccentric
*Being inventive
*Being loyal to yourself, your purpose, your values and your vision
*Being idealistic
*Being intellectual
*Being witty
*Being spontaneous
*Being honest and authentic
*Being curious and inquisitive
The Full Moon in Aquarius is a super powerful time for releasing:
*Being unpredictable in a way that drives people crazy 🙂
*Being unnecessarily rebellious in a way that creates disharmony
*Being obstitnate and fixed in your opinions without being open to other's opinions
*Being "in the box" and following societal norms rather than following your internal guidance system
*Being a follower rather than an innovator
*Being sarcastic in a way that creates separation
*Being aloof and disconnected
*Being unemotional or cold
There are 2 Eclipses that will occur over the next month.
It is a very powerful time of transformation.
This first Lunar Eclipse focuses on all of our relationships.
Our emotions and our instincts will reach a peak during this Lunar Eclipse.
This will give you the opportunity to take an objective and balanced look at your close personal relationships.
You will be in touch with your own needs and intentions, and the needs and intentions of others and you can clearly see any relationship imbalances that have been causing disharmony.
During a lunar eclipse, the Moon goes dark and represents a resetting of your emotions, clearing away the emotional baggage of the previous six months.