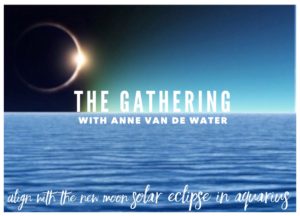 THE GATHERING
JOIN ME FOR THE GATHERING
TO ALIGN WITH THE NEW MOON SOLAR ECLIPSE IN AQUARIUS

Thursday, February 15, 2018

2 hour session followed by the fire circle
$40 in person in Santa Barbara, CA
$30 via Live Stream or Video (sent out February 16)
If you have been deeply financially impacted by the Thomas Fire/Flood/Mudslide, then please reach out and let me know what you are able to pay on a sliding scale.
10% of all proceeds will go to supporting the Thomas Fire/Flood/Mudslide.
Join me for THE GATHERING to connect, align with the New Moon Solar Eclipse in Aquarius.
New Moon and Full Moon are powerful times to GATHER together and practice Gentle Yoga and movement, breathe, chant, meditate, clear and balance our Chakras, share, connect, intend, clear, bless, vision, create ceremony and gather around the fire circle outside under the New Moon Light (if it is clear) and inside by the fireplace (if it's raining) in ceremony so that our wishes, prayers and intentions are heard.
Every Full and New Moon activate powerful energies within us.
New Moon is powerful for making wishes and setting intentions for creating a new way of being.
This is also a Solar Eclipse.
This Solar Eclipse makes the New Moon more powerful because the Moon darkens the Sun and therefore the energy of the Moon is temporarily more powerful than the Sun.
New Moons represent the end of one cycle and the beginning of a new cycle.
The New Moon's influence will last for 4 weeks but the energy of the Solar Eclipse will last about 6 months.
This New Moon and Solar Eclipse open you to all possibilities and you can put yourself in the perfect position to manifest new plans for the future.
It is a good time to question your old habits and behaviors that are no longer aligned with who you are now as you search for new and inventive ways to make progress in your life.
This is the best time ever to make a fresh start.
The New Moon in Aquarius is a powerful time for creating and activating:
*Being creative and making your life a work of art
*Being Humanitarian
*Personal Independence
*Being Friendly with others and yourself
*Being willing to try a new way and new things
*Having a progressive outlook
*Being an original
*Being eccentric
*Being inventive
*Being loyal to yourself, your purpose, your values and your vision
*Being idealistic
*Being intellectual
*Being witty
*Being spontaneous
*Being honest and authentic
*Being curious and inquisitive
The New Moon in Aquarius is a super powerful time for releasing:
*Being unpredictable in a way that drives people crazy 🙂
*Being unnecessarily rebellious in a way that creates disharmony
*Being obstitnate and fixed in your opinions without being open to other's opinions
*Being "in the box" and following societal norms rather than following your internal guidance system
*Being a follower rather than an innovator
*Being sarcastic in a way that creates separation
*Being aloof and disconnected
*Being unemotional or cold
It is also the first day of The Chinese New Year of the Dog.
The Chinese regard the Dog as a very auspicious year.
When the year of the dog arrives, it symbolizes the coming of great good fortune.