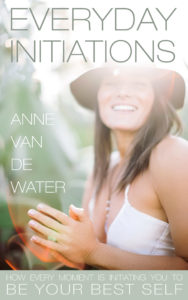 I am so happy to share that my latest book EVERYDAY INITIATIONS: How Every Moment is Initiating You To Be Your Best Self, published by Waterside Publishing, is now available on Amazon in paper book, Ebook and Audiobook.
I am incredibly grateful for my publishers Waterside Productions, one of the most successful literary agencies in the world with more best-sellers and more copies sold than any other agency in existence.
Huge gratitude flowing to NY Times best selling author and all around stellar human being Gay Hendricks for encouraging me to write the book, for writing the foreword and for helping to me to get it published.
If you would like a signed copy of EVERYDAY INITIATIONS sent to you for $19.99 (signed paperback plus U.S. shipping) please follow THIS link.
Your copy will be sent to you the week of December 2, 2019:
Follow THIS link to get EVERYDAY INITIATIONS in paperbook, EBook and Audiobook at Amazon
If you love the book then please leave a review on Amazon.
Thank you for your love and support!
SAVE THE DATE!
My official BOOK LAUNCH will be Thursday, December 12 at 7pm at:
Paradise Found / 17 East Anapamu Street in Santa Barbara, CA.
I feel so honored and blessed that my friend and mentor, NY Times Best Selling Author Gay Hendricks, who wrote the foreword for my book will be introducing me.
I will share the book with you, we will be co-creating uplifting connections with each other and I will be signing books.